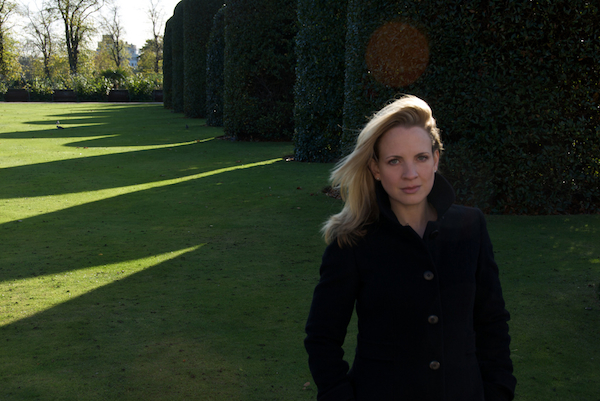 Gabriella "Gaby" Santinelli was born in Manhattan, NYC, and raised in New England, the Mid-Atlantic & Midwestern United States.
She attended Interlochen Arts Academy for Theater & Liberal Arts, then earned a Bachelor's Degree in Theater, Performance Studies and Music-Theater from Northwestern University's School of Speech.
After taking a year off to perform on stage and screen in Chicago, she moved back to New York, where she earned her Master of Music Degree in Voice Performance from Mannes College The New School For Music.
Gaby then relocated to London, England, where she worked steadily as an actress and singer for over a decade.
Her eclectic body of work took her all over London, the British Isles, Europe, Far East Asia, Australia, and even back to North America (American Conservatory Theatre in San Francisco and The Ahmanson Theatre in Los Angeles).
In 2004, Gaby won a Best Supporting Performance LAURENCE OLIVIER AWARD in the World Premiere Company of Jerry Springer – The Opera, performing on the Lyttelton Stage at the National Theatre, and at The Cambridge Theatre in the West End. She sang on the Original Cast Album in the role she originated, Amber Hooper/Chorus. During her year with the show, she also played Shawntel/Eve, the opera-singing pole-dancer, at 18 performances.
Other notable work includes 240 performances as opera diva Carlotta Giudicelli in The Phantom Of The Opera (UK National Company), Robert Wilson & Tom Waits' cult hit The Black Rider (world tour), and screen acting alongside Colin Firth, Jessica Lange, Halle Berry, Jennifer Crystal Foley, Willa Holland and Iain Glen.
Choral Singing with London Voices at the Royal Albert Hall includes Sir Paul McCartney's Ecce Cor Meum (+recording at Abbey Road Studios), Verdi's Requiem (3 days after 9/11), and The Lord Of The Rings LIVE.
Studio Singing includes Godzilla, Oblivion, Star Wars III, Harry Potter III, Harry Potter VII Part 2, The Passion Of The Christ and The Lord Of The Rings Trilogy.
Gaby is adept at all North American accents. As an Accent and Dialect Coach, she especially enjoys teaching American dialects to non-American actors.
As an Acting Coach, Gaby shares her compatible blend of Meisner Technique, and the Text Analysis System taught by David Mamet, W.H. Macy and Scott Zigler at The Atlantic Theatre Company's Practical Aesthetics Workshop.
A dual US-UK Citizen, Gaby currently resides in the Hollywood Hills.