Hi there!
Here's a little bit about my journey thus far…
Born in Inwood (Manhattan's uppermost neighborhood), my parents were folk musicians who met working as young actors at The Woodstock Playhouse.
I was carted around to Cape Cod, Paris, Upstate New York, The Jersey Shore, Hell's Kitchen, Ohio, New Hampshire, and Vermont. My mom's wanderlust embedded in me an undying love of the woods, the beach and road trips, as well as bleeding heart liberal leanings.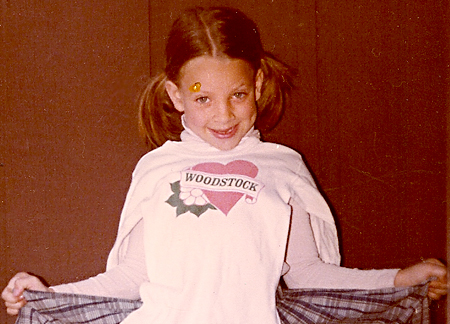 And thanks to my mom, I performed on stage a lot as a kid: Molière, Dickens, Sophocles and classic American operas. 

Thanks to my dad, I was able to leave home at 16, to study acting at Interlochen Arts Academy in the north Michigan woods.

I went on to study Theatre and Music at Northwestern University in Chicago, where for four years, you are encouraged to try your hand at every aspect of the performing arts that takes your fancy.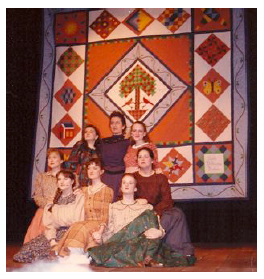 One summer, I went home to Vermont and studied Practical Aesthetics with The Atlantic Theatre Company. I was in theatre heaven! David Mamet, W.H. Macy, Scott Zigler and Mary McCann taught me. I saw their kick-ass plays, featuring Kristin Johnston and Felicity Huffman (one of my personal heroes). My second ATC summer was even better. We apprentices performed two Durang one-acts, The Actor's Nightmare and Sister Mary Ignatius Explains It All For You.
Extra Credit: spot my fellow acting apprentice Skeet Ulrich in Burlington Free Press's article featuring The Atlantic Theatre Company.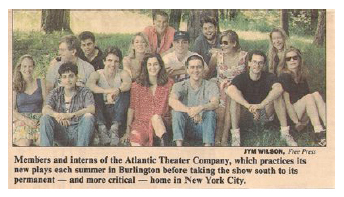 Inspired by what I had learned with Atlantic, I started directing as soon as I got back to Northwestern in the fall.  This was when I began learning how to coach actors.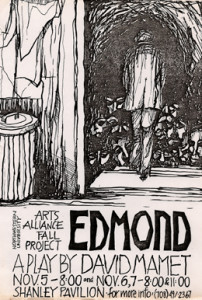 Before graduating from Northwestern, I was cast in my first professional opera role: Papagena in Mozart's The Magic Flute. 

After graduation from Northwestern, I sang another opera role, Norina in Don Pasquale, voiced and puppeteered Dora Puppet in the world premiere of Freud, Dora and The Wolfman, and landed my first film role: Heidi in Paramount's Feature Losing Isaiah, with Jessica Lange and Halle Berry, directed by Stephen Gyllenhaal. I joined Screen Actor's Guild, and got to work with fellow Northwestern classmate Jennifer Crystal Foley.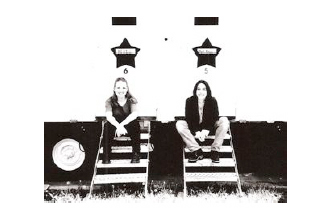 I formalized my singing training at Mannes College of Music in NYC, where I received a Master of Music Degree in Voice Performance.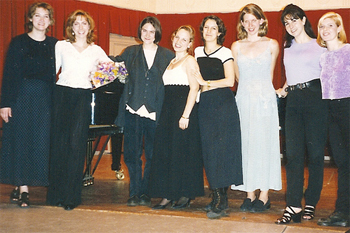 Upon completion of my Master's Degree, I felt the urge to get in touch with my Italian and Anglo-Irish roots and made the major overseas move to Europe. I had an amazing time in Italy, the source of not only my bloodline, but the language of some of my most cherished operas.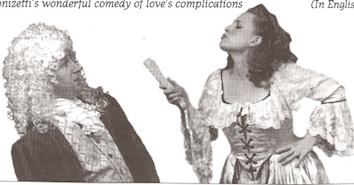 I then settled in London, where the performing work came in thick and fast. My first job in England was Rossini's Il turco in Italia, directed by the unforgettable Simon Callow. I went on to tour in Britain, Europe, the Far East in numerous productions…and had a fabulous time.


One fateful September day, I auditioned for two completely different shows: British Youth Opera's new production of Mozart's The Abduction from the Seraglio (which was set to open the newly built Linbury Studio at Covent Garden!!!), and Cameron Mackintosh's The Phantom of the Opera.  I got leading parts in both shows.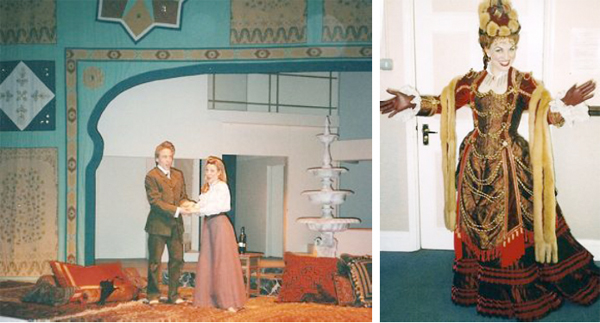 The year I spent performing Carlotta in Phantom was where I learned the difference between working in a theatre, as compared to an opera house, and I felt a pang for straight acting.  However, I continued to thrive in the land of operetta and musical theatre, working in the West End, regionally, and as far flung as Malaysia.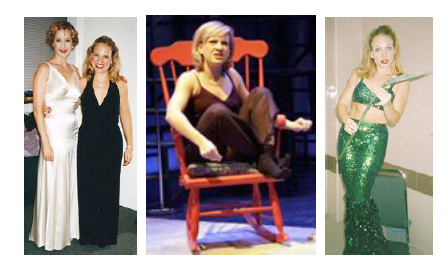 Once, when I was in the D'Oyly Carte's West End production of Gilbert & Sullivan's Iolanthe at The Savoy, I played two roles…on the same night. The soprano singing Phyllis went off sick halfway through Act 1. I leaped out of Celia's fairy costume and into Phyllis's Arcadian frock for the rest of the evening.  O joy, o rapture!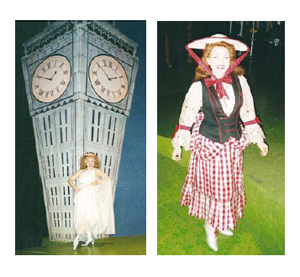 But the best was yet to come.  A dream come true: Jerry Springer – The Opera at The National Theatre and in The West End won me an Olivier Award for Best Performance In A Supporting Role In A Musical. I think I earned it – the only time I ever left the stage was for a 30-second quick-change stage right, into tap shoes and white hooded robe for the iconic tap-dancing Ku Klux Klan Act One Finale (complete with flaming crucifix) !!!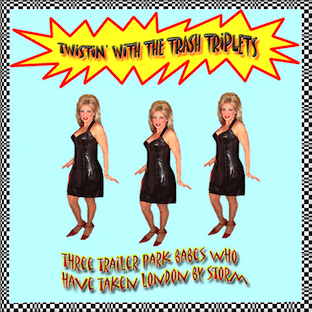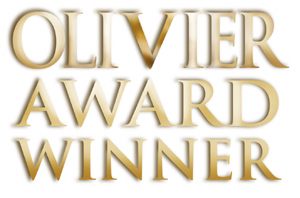 Next, a very groovy curve ball: legendary avant garde director Robert Wilson put me through my physical theatre paces in William S Burroughs' and Tom Waits' cult hit The Black Rider. We toured London, San Francisco, Sydney and Los Angeles, with notorious pop icon Marianne Faithfull (she's lovely, by the way!). If Jerry Springer – The Opera hadn't blown my mind, The Black Rider certainly did!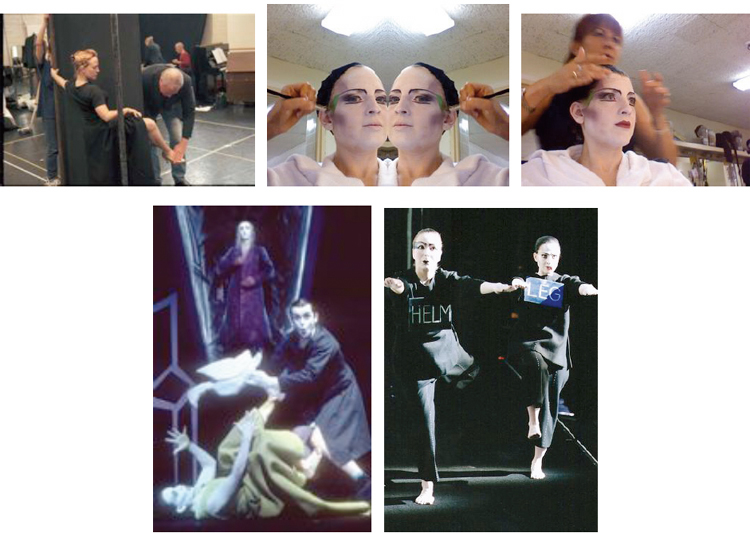 In 2003 I started coaching American Accents to non-American actors in London. Simultaneously, I immersed myself in a comprehensive Meisner Technique training program that filled in the missing puzzle pieces in my approach to acting.
What followed was a newfound confidence in straight acting, coupled with a resurgence of that side of my career: a leading role in a BBC Radio Drama; Masha in Chekhov's Three Sisters; Roy Smiles's new drama The Last Pilgrim about the night Robert F Kennedy was assassinated; and a fully staged production of The Exonerated (Off West End).


One of my favorite experiences was improvising the role of enfant terrible Broadway director in Casting Nina, an independent mockumentary spoof about….casting the role of Nina in Chekhov's The Seagull for a West End production, from a national open casting call: a brilliant creation from brilliant director and dear friend, Dominic Kelly.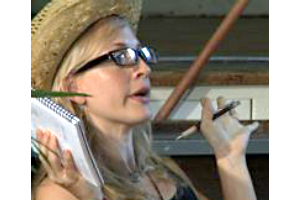 Oh, and let's not forget that scene where Colin Firth hugs me in Michael Winterbottom's heartfelt feature A Summer In Genoa…….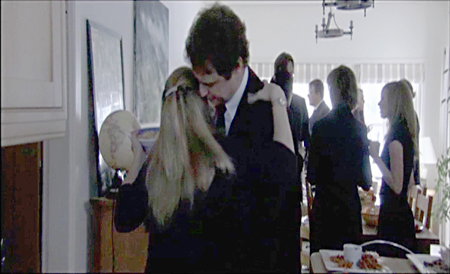 Recording at Abbey Road Studios in a massive chorus is always a thrill, especially when being conducted by Howard Shore (The Lord Of The Rings Trilogy) or by my childhood hero, John Williams (Star Wars III, Harry Potter III). Equally exciting is singing in Hollywood on the Composing Stages at Warner Brothers (Bear McCreary Demo), 20th Century Fox (Oblivion) and Sony (Godzilla 2014).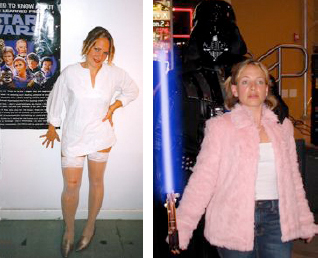 And y'know, any excuse to work at The Royal Albert Hall…I've sung there a lot, including Verdi's Requiem three days after 9/11, and Sir Paul McCartney's choral tribute to his late wife Linda, Ecce Cor Meum.

I feel so grateful to have had these enriching opportunities in Britain – I am even a dual USA-UK citizen now.  But after many years  in London, it was time to come home, this time to Los Angeles. I hope to see you soon!  'Til then, may you be well and happy.